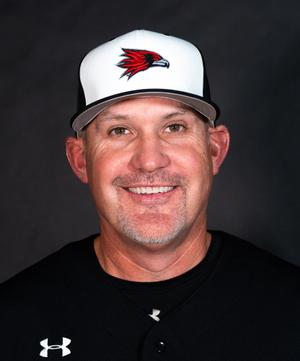 The 2023 season marks Andy Sawyers' seventh as Southeast Missouri's head coach.
In the last two years alone, Sawyers led SEMO to one Ohio Valley Conference regular-season title, back-to-back OVC Tournament crowns and two NCAA Tournament appearances. For the first time in program history, the Redhawks claimed the league's OVC Tournament title and advanced to the NCAA Tournament in consecutive seasons during the 2021 and 2022 campaigns.
During the 2022 season, SEMO compiled a 37-22 overall record and finished second in the OVC with a 16-8 mark. The Redhawks, after dropping their first game of the conference tournament, won three-straight elimination games to secure their second-straight OVC Tournament championship. SEMO outlasted top-seeded Belmont, 5-4, in 10 innings to get the title.
The Redhawks later represented the OVC at the NCAA Regional in Louisville, Kentucky. That trip came a year after SEMO advanced to the NCAA Regional in Oxford, Mississippi.
SEMO was nearly unbeatable at home in 2022, where it led the nation with a 23-2 record. The Redhawks won their first 14 games at Capaha Field en route to their best home record in program history. In addition, the Redhawks finished the year with 24 come-from-behind victories.
The Redhawks hit a program record 97 home runs with five players getting 10 or more. SEMO also had seven All-OVC selections, two American Baseball Coaches Association (ABCA)/Rawlings All-South Region picks and one draft pick (Andrew Keck, 10th round, Atlanta Braves) in 2022.
Academically, SEMO's baseball team recently recorded a 3.45 grade point average for its best fall term GPA in program history. During the 2021-22 academic year, the Redhawks had two OVC Medal of Honor recipients and 20 Commissioner's Honor Roll selections.
In all, Sawyers has over two decades worth of collegiate coaching experience.
Prior to arriving in Cape Girardeau, he worked two seasons as the Associate Head Coach/Offensive Coordinator at Big 12 Conference member Kansas State. There, Sawyers oversaw the hitters and catchers, while helping coordinate recruiting efforts.
Sawyers has coached in two College World Series, two NCAA Super Regionals and nine NCAA Tournaments during his coaching tenure. He has mentored 40 Major League Baseball draft picks, including two first-round selections and nine top-10 round picks.
Sawyers' coaching career began at Northwestern (La.) State in 1999 as a volunteer assistant coach, helping the Demons finish second in the Southland Conference.
He first played collegiately at Point Loma (Calif.) Nazarene College in 1994. Following a year off, he played at Mendocino (Calif.) Junior College in 1996 before finishing up his playing career at Nebraska.
A native of Willits, California, Sawyers received his bachelor (1998) and master's (2000) degrees from Nebraska. He is married to the former Dena Lindeblad and the couple have two sons, Andrew James (A.J.) and Alex.